This article is part of health status, a series about how Michigan communities are evolving to address health challenges. This is made possible by grants from
Michigan Health Endowment Fund.
Michigan schools and early childhood education centers will see a significant expansion in government incentives to purchase and serve Michigan-grown produce in the coming fiscal year.
In July, Michigan Gov. Gretchen Whitmer signed into law a bipartisan education budget, expanding the success 10 cents per meal for Michigan's Kids & Farms local food investment program. 10 Cents a Meal provides educational centers with funding of up to 10 cents for each meal served that includes Michigan fruits, vegetables and legumes. 10 cents a meal fund is available to schools, early childhood education institutions, day care centers and other organizations that participate USDA Child Nutrition Programs. A $250,000 federal pilot started in 2016 with 10 cents per meal. Its budget has more than doubled in each of the past two years, from $2 million in 2021 to $4.5 million in 2022, the year the program went statewide. $9.3 million is earmarked for the program in fiscal year 2023.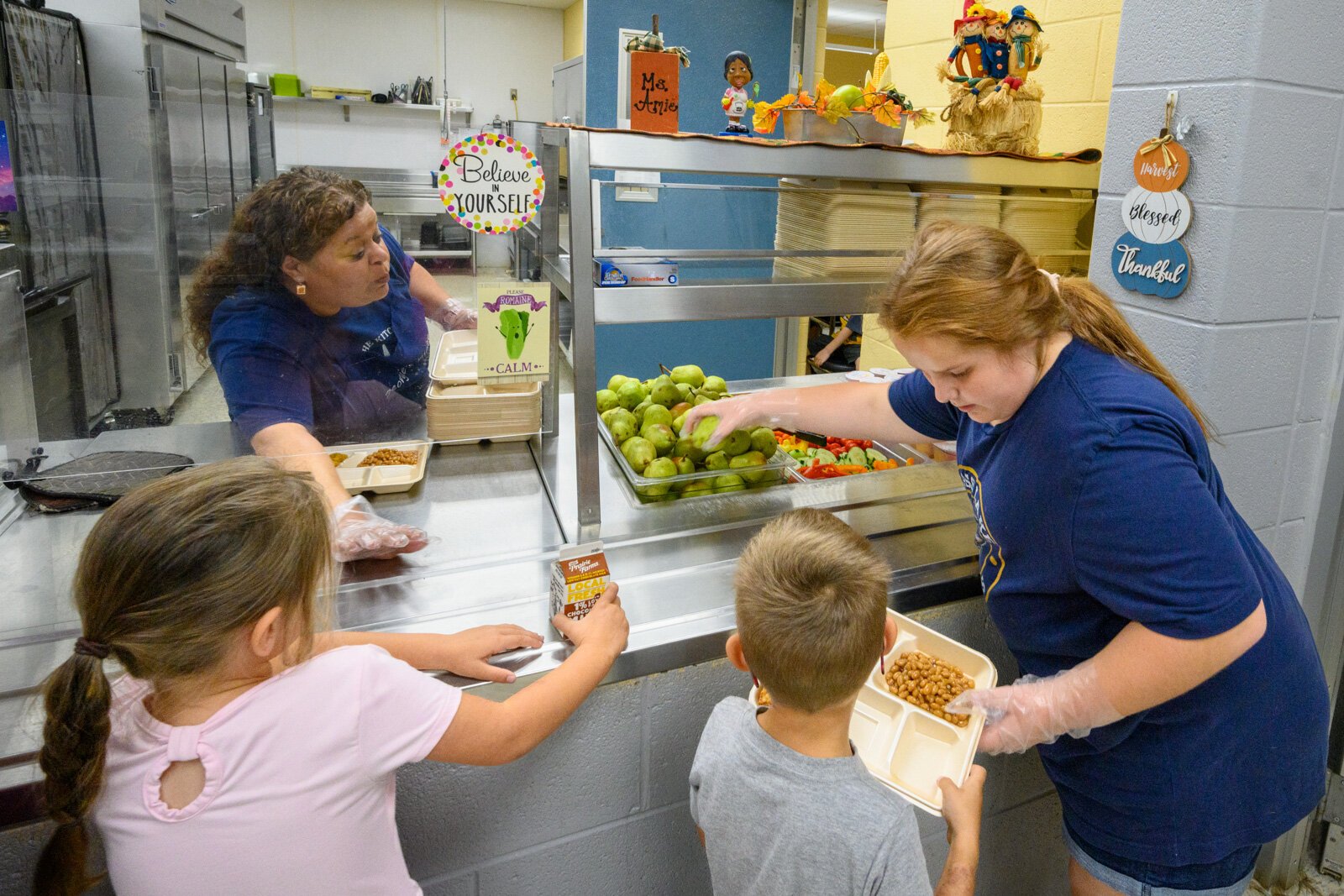 A student at George Long Elementary School in Grass Lake is given a Michigan pear for lunch.
"The $9.3 million funding for 10 cents a meal is one of the biggest local food/farm to school stories in Michigan history," says Jeff Smith, communications director of Foundation Center for Resilient Communitieswho supports Michigan Department of Education (MDE) in the implementation of the program. "This is a very important milestone in our mission to provide children with healthier foods at school so they can grow and learn at their best, and put many millions of dollars into the pockets of Michigan farming families – and continue to grow the local food movement." the way."
10 Cents a Meal improves the daily diet and eating habits of Michigan's children and boosts Michigan's agriculture and local food economy. More than 585,000 children benefited from the program in the 2021-2022 school year.
"10 Cents a Meal is a tool for nutrition program managers to provide children with healthy, minimally processed products that are grown in Michigan," said Melanie Wong, early childhood education specialist at Groundworks Center. "We know that healthy eating habits develop over time and that children need multiple food exposures for them to start accepting them. So a program like 10 cents a meal…can help food program managers continue to provide healthy Michigan products so kids can be exposed and develop those healthy eating habits."
Changes to the 2023 program also streamline reporting requirements and make food purchased for farm-to-school activities eligible for grant funding.
"Healthy breakfasts and lunches help kids settle in so they are willing to learn and engage in their academic activities," says Wong. "It's also directing more funding to Michigan's local food economy, including direct sales to farms [and] other related businesses, … Michigan grown food distributors, processors, food aggregators and food centers.
According to that 10 cents per meal 2020-2021 Legislative Report, 10 cents a meal grantees purchased 63 different types of fruits, vegetables and legumes grown by 109 farms in 40 Michigan counties. The grantees also impacted another 39 food companies. Preliminary results from evaluation surveys showed that nearly 64% of grantees said 10-cent-a-meal grants allowed them to try new products in their dining program that they would not otherwise have tried.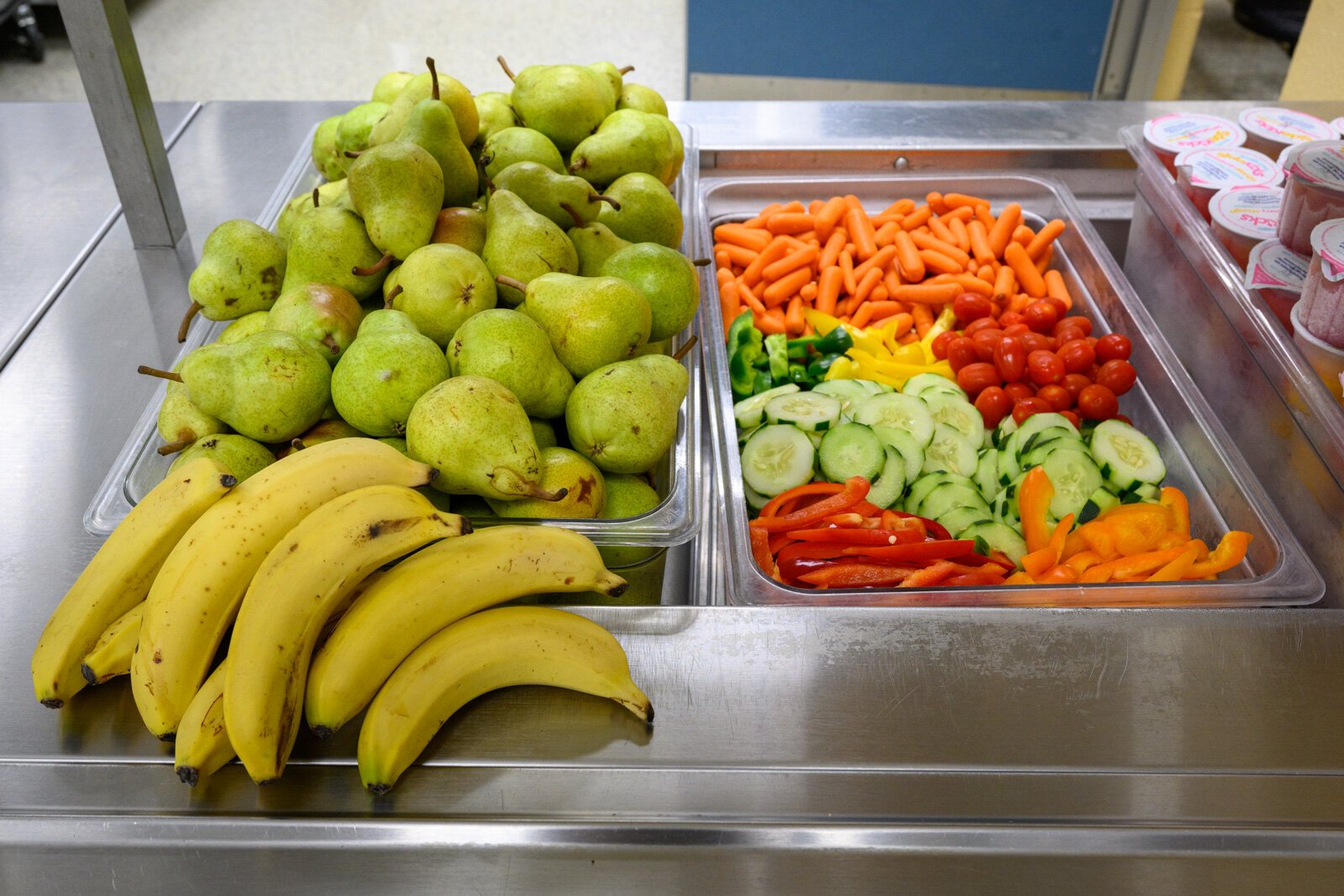 Michigan products (excluding bananas) at the lunch counter at George Long Elementary School in Grass Lake.
"The expansion of 10 cents per meal is a huge win for Michigan's families, children, farms and communities," says Wong. "[10 Cents a Meal] works to encourage them to explore new product offerings and become more involved in farm-to-school, farm-to-early childhood care and educational strategies such as taste testing or food and nutrition education activities.
Meals at Grass Lake Community Schools are greener
in jackson county, Grass Lake Community Schools have been involved with 10 Cents a Meal for five years. District Food Services Director Kelly Bolton is pleased that the program is expanding its reach to more schools, early childhood programs and daycares in Michigan.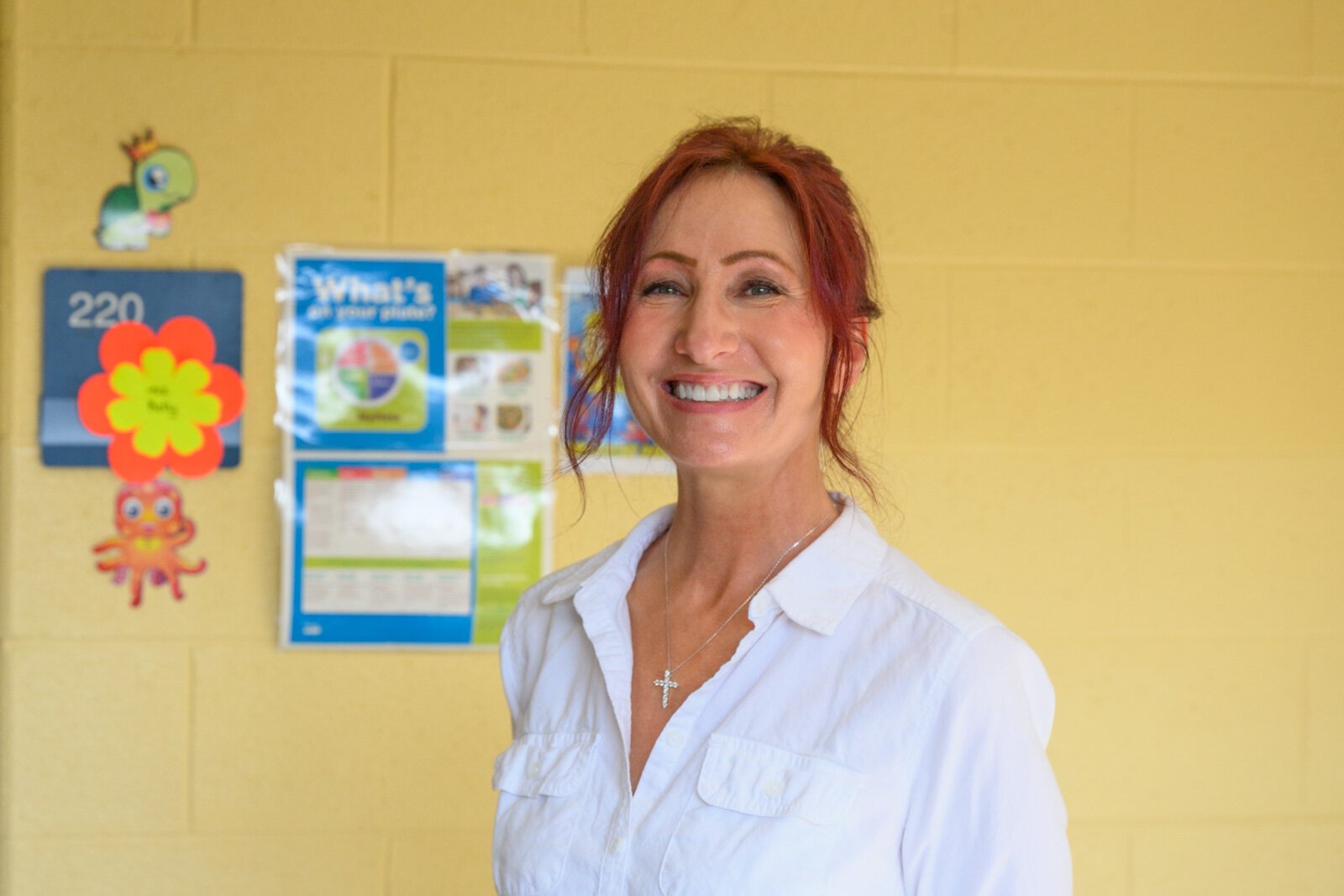 Kelly Bolton.
"10 cents a meal has helped us a lot," says Bolton. "It allows us to serve healthier meals and also gives students the opportunity to try new fruits and vegetables as we incorporate them into new and different recipes. We are allowed to be more imaginative and imaginative. And it really piqued the interest of all the students."
Bolton says serving new food and recipes in the canteen has resulted in more students eating school lunches. It has also sparked interest in cooking classes and other educational activities that instill lifelong healthy eating habits in the district's children. For example, Bolton says Grass Lake Community Schools has held fun activities like a contest for students to determine which Michigan apple should be served for lunch.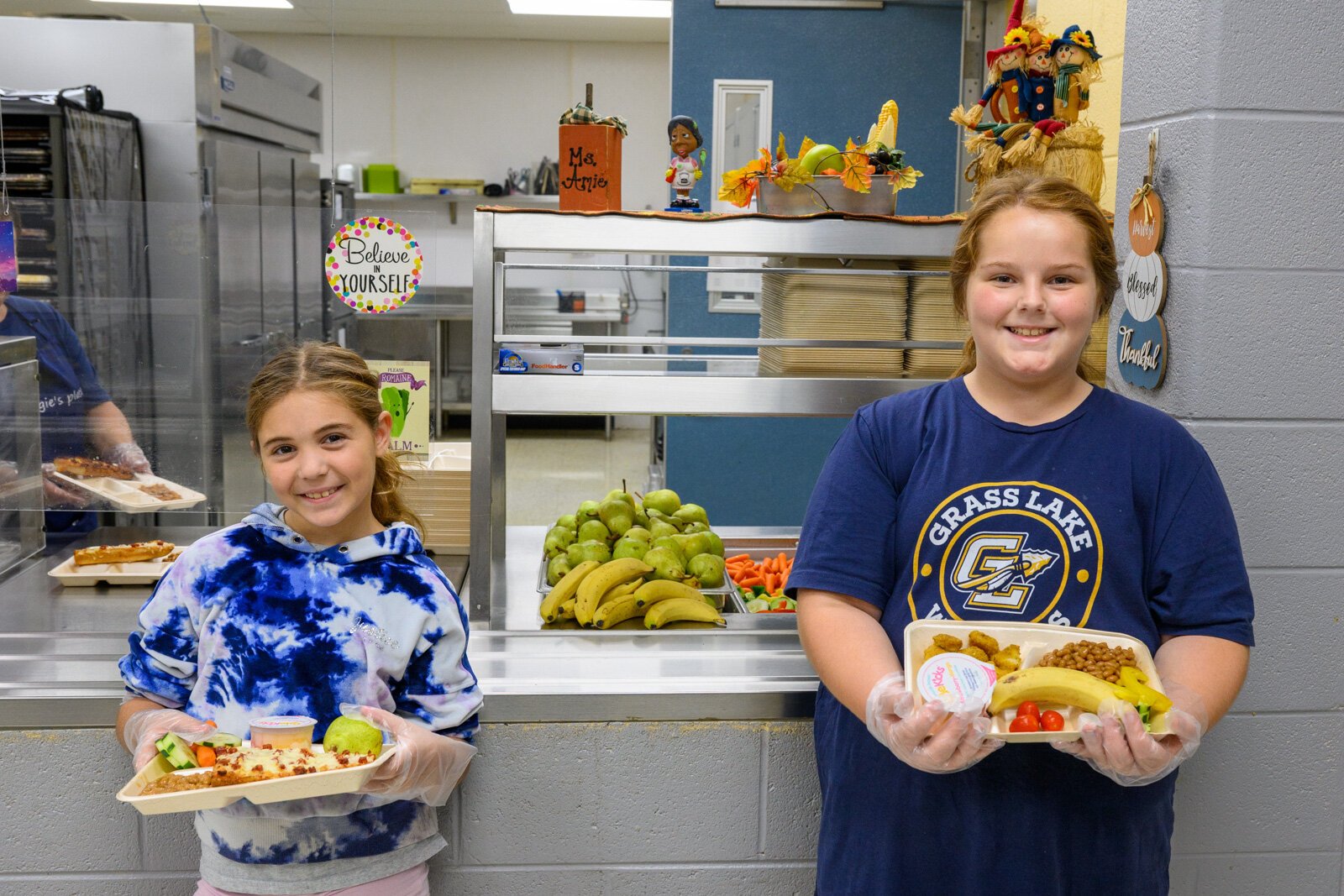 Students at George Long Elementary School in Grass Lake having lunch.
"At 10 cents a meal, we've expanded our capabilities beyond just serving school lunches," says Bolton.
Bolton believes that Grass Lake students perform better academically and behave better because they eat healthier foods.
"It's the fuel for their day. I can honestly see the difference after lunchtime compared to the rest of the day just because they're eating a little more fruit and a little more veg," she says. "We're paying close attention. If we see a student who might not have lunch, we will reach out to those students and, surprisingly, you should see how happy those students are that we're offering them these fruits and vegetables to get them through the day."
Thanks to 10 Cents a Meal, Bolton and her employees can buy fresh Michigan produce for college meals at their local farmer's market. They also routinely shop at Birch Road Farm, a local farm that has served the county for generations.

Students at George Long Elementary School in Grass Lake wait for lunch.
"We love letting the kids know they're actually eating local produce from their own town and supporting their own local businesses and their own farmers," says Bolton. "These farmers could be hers or their friends, grandmas and grandpas or parents. So it is very exciting that we can taste the food of these farmers and incorporate it into our lunch."
Bolton's enthusiasm for the program has not gone unnoticed. MDE has recruited her to provide administrative support to other schools that are managing the grants process or need assistance with tracking purchases and submitting invoices necessary to receive grant funds.
"I've had so many schools say, 'Well, I didn't actually even know what this was about,' or they didn't realize how easy it was to apply and get your scholarships funded," says Bolton. "There is a lot of misconception about how much work it would take to get that extra money. The MDE has made it wonderfully easy for them. So why not support local businesses, serve fresher fruit and veg, and earn it all for free? simultaneously? It's just a positive experience."
The proof is in the product
Since the inception of 10 Cents a Meal, the Michigan State University (MSU) Center for Regional Food Systems. has evaluated its impact. In 2020-2021, food program managers reported that a variety of new foods were being served for the first time as a result of 10 cents a meal. These food programs, for the first time, purchased more than 30 types of Michigan-grown vegetables and 16 types of Michigan-grown fruits. On average, 10 Cents a Meal grantees tried at least five new Michigan foods over the course of the year.
"We can see kids being served a variety of these healthier foods and eating all kinds of fruits, vegetables and legumes that they may not have had the opportunity to eat," says Megan McManus, MSU Center for Regional Food Systems Farm to Institution Fellow. "This is a long-term goal for the 10 cents a meal program. We hope that as children are exposed to more Michigan fruits, vegetables and legumes in their meals, they will become more accustomed to these foods and choose to eat them because they like the taste. And over time, it's those healthier meals that lead to better lifelong eating habits."
As another important long-term goal, organizers and advocates hope 10 cents a meal will spur similar efforts beyond Michigan.
"We are excited about the expansion of 10 cents per meal for many reasons. Having the statewide expanded eligibility to include grantees such as early care and education facilities has opened the doors for so many grantees to participate," says McManus. "In addition, this program is now attracting the attention of people across the country who are watching its progress and expansion. 10 cents a meal is seen as a model for other states to implement their own local food programs."
Estelle Slootmaker is a working writer specializing in journalism, book editing, communications, poetry and children's books. You can contact her at [email protected] or www.constellations.biz.
Photos by Doug Coombe.